Plan Ahead Professional Shed Accessories
Posted by The Kings of Steel | Blog | June 03, 2021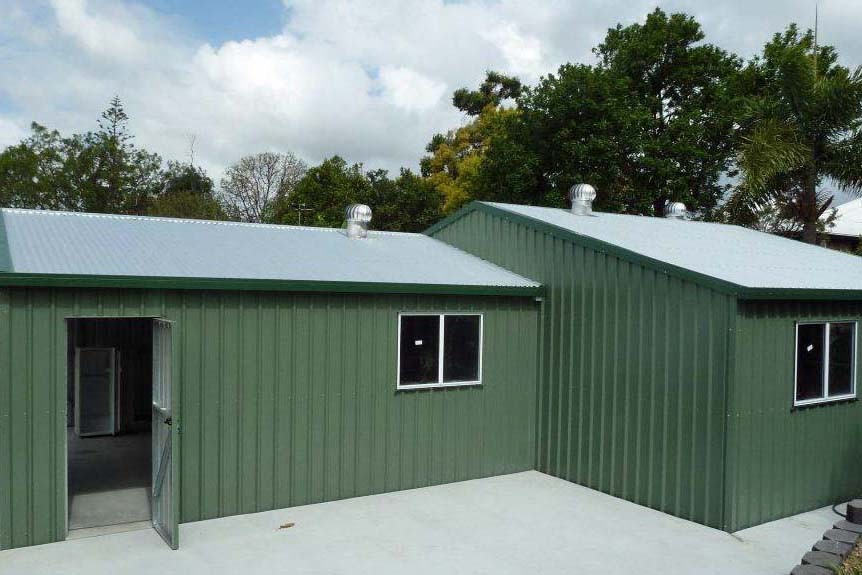 Plan Ahead | Professional Shed Accessories
Whatever the building and however you use it, there are plenty of ways to improve your garage or shed. Whether it is better ventilation, a bit more natural light or more convenient access, with a little bit of forward planning, you can maximise the efficiency and effectiveness of your property.
Of course, you can simply build your shed and add the extras at a later date, but this adds additional cost to your build and, if not done professionally, can affect the integrity of your shed.
Read on to find out some of the best ways to make the most of your Titan Garage or Shed:
GET THE BEST ACCESS
Doors come in all shapes and sizes, so it's worth thinking about the widest possible uses for your building. For example, you may need a garage for your family car, so one roller door would be enough. But is there the chance of a second car, boat or even a shared home office space in the future?
If you need a personal access door, might it be more helpful to add a sliding glass door to increase natural light? If you need vehicle access door, would a double-width door suit you better?
By thinking of these potential possibilities, you will be able to install the doors you need from the start, saving time and money.
INCREASE NATURAL LIGHTING
Adding windows to your garage or shed is a good way to avoid needing electrical lighting. The size of your windows will depend on the size of your building, but also on its location. A shady area or north-facing aspect will need a larger window to make the most of the reduced daylight. Security grills provide plenty of protection for your property, so your property's safety won't be compromised.
For larger barns or sheds that don't or can't have windows, overhead lighting may provide a better solution. Titan Lite's polycarbonate sheeting is weather and UV-resistant with high-impact strength to ensure that it maintains your roof's integrity.
These can all be added in later, but by pre-planning and installing, you will be more likely to maintain waterproofing, structural needs and a professional, secure fit.
THE IMPORTANCE OF AIR FLOW
Vents, like windows, use the natural elements to benefit your shed. Windows and doors, of course, are excellent ways to ensure a decent air flow through your property, but they can't be left open all the time.
Rooftop wind turbines can reduce heat and to some extent fumes and dust*. Installed on the roof of your shed, they use natural wind to extract warmer internal air and improve ventilation.
SkyVents have the added benefit of providing an additional lighting source. The open vents are covered by a clear, rainproof shield allowing sunlight to flood in. If extra extraction is needed, our Solar Space X vents contain a sun-activated fan for more efficient ventilation without the need for electrical wiring or supply.
Make more of your shed or garage and save time and money by planning ahead, including features and getting your property right from day one. Before you order your shed or garage, consult your Titan Lite provider for advice on accessories to maximise your property's potential.
*Always consult a professional if you require effective extraction of volatile chemicals, fumes and dust.