7 Simple Shed Designs For Your Backyard
Posted by The Kings of Steel | Blog | October 10, 2016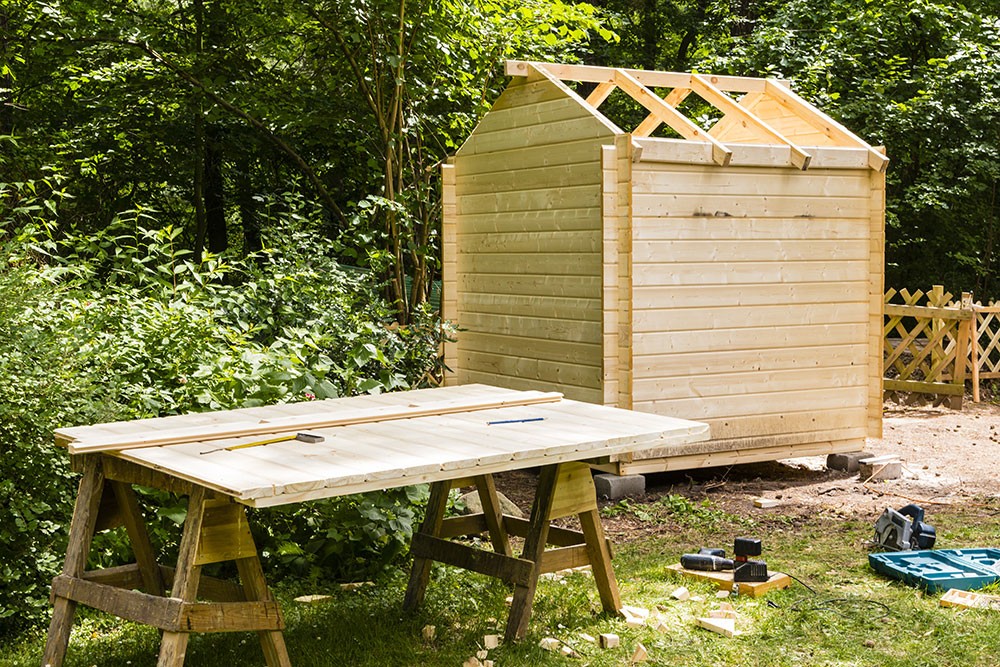 There are a few things to consider before building and choosing a plan for your next build.
Plan your shed
Will you be needing a shed to fit your car? Will you just need a shed to store a mower and a few simple tools? Depending on what your needs are, your shed design is going to vary depending on what you need it for. Plan what you will need the shed or barn for. If you're not sure if you'll need it to fit a car or motorbike, it's best to plan for one that will fit these items, just in case you do need to use it for that reason. It's better to build a shed that is larger than needed, rather than build a small one and it doesn't suit your needs.

Another thing to consider are the local rules and regulations of where you live. Some buildings, such as sheds, will require local planning permission. It usually depends on the size of the shed, and small tool sheds are fine to be built without a permit. If in doubt, seek the advice of your local council for more information.
What foundations will you be using?
In order to have a strong shed that will last for years to come, you need a solid foundation. There are a few different types of foundations you can choose from and the one you choose will depend on where the shed is being built. If you have a sloped area for your shed, you can either level it out and install a concrete slab. Or, you can build your shed on wooden piers. You may also build on piers if you have a flat area to work with, depending on your budget and time frame. The best foundation to use though, is generally a concrete slab. They are strong, long lasting and can be laid yourself if you wish to save money. However, you can get a local builder or concreter to come along and lay out a solid concrete foundation for you if you're not sure how to do this yourself.
Shed Plans
Here are some basic shed plans and steps that will help with your next shed build!
This shed is quite large, but doesn't allow for a large door big enough for a car to fit through. This is an ideal shed for a large amount of tools and garden equipment. It may also be an ideal shed as a teenager's retreat.
This shed has a bit more detailing than a standard tool shed, but looks wonderful when completed. This design features arched windows and is designed on wooden piers as the foundation. A great looking shed that will feature well in your backyard.
This site has some plans for a simple gable shed, which can be used for various storage uses. A great part of this site and the plan is that there are some plans available for purchase for differing size needs. So, if you love the design, but want a plan for a bigger shed, you have the option of buying it via their website.
If you're looking to build a shed large enough to fit your car to keep it in a safe and secure area, this is the plan you need. Whether it's to store the car each night or if you want to just keep it in there for if you go away on a holiday, this makes the perfect shed to store your vehicle.
This is a great shed for if you want a potting station that allows you to stay out of the weather. It can also be used simply for garden accessories and tools. Other suggestions include a small outdoor sitting area for a quiet afternoon tea that is out of the weather. The plan includes a workbench and window and can also be built with a wraparound deck if you wish, making it the perfect addition to any home.
Whether you're looking for a simple storage area or want to create a nice backyard retreat away from the home and the chaos, this is a really pretty, yet simple shed design that will surely fit your needs. With a colonial style look and feel, it will look wonderful in your yard. It's sizing is 10ft by 12ft, so there's plenty of room to move. It's quite a complex design and build, so keep this plan for when you're confident to take on this big project.
No matter what your needs are, there is definitely a shed to suit your lifestyle. You may just need a small space for some garden equipment, a large area to take on some DIY projects, or maybe a second storage solution for a vehicle. Building a shed doesn't have to cost the Earth and you'll be able to see the fruits of your labour with building your own shed.