Posted by The Kings of Steel | Blog | May 19, 2022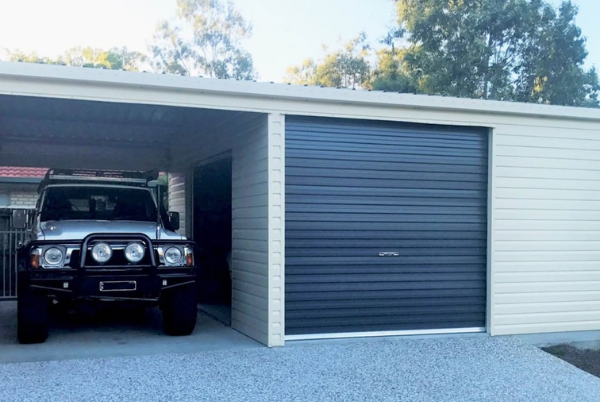 Chances are your shed is home to some valuable things, whether it's a classic car, machinery, personal items or tools.
That makes security paramount, so let's look at some of the best ways that you can secure your shed.
Why it's critical to secure your shed
According to the latest crime statistics compiled by Budget Direct, Australia has the seventh highest rate of burglaries in the world.
Their data indicates 4.3 per cent of Australian households experienced at least one break-in (or attempted break-in) during the last 12 months, and 70.8 per cent of those break-ins resulted in the theft of belongings.
When it comes to what was taken, 24.8 per cent involved the theft of personal items such as jewellery, clothing or handbags.
Budget Direct then notes the next most likely items to be stolen included wallets, purses, cash, and tools, followed by sporting equipment.
"Data from the ABS showed that tools were the third-most stolen category items, yet most Australians consider them far less likely to be taken," Budget Direct noted.
"This might indicate that people won't properly protect them – potentially leaving expensive tools unlocked and accessible in the backyard."
That means not only is it important to store your tools in a shed or garage in order to maintain their value, this also decreases the risk of theft.
But even if you have a shed, it is then critical to ensure it's secure. So, let's look at the top tips for improving the security of your shed.
Fit your shed with secure locks
Your shed should be fitted with a secure lock. Where possible, this should be a door lock complete with key.
If a pad bolt and padlock are the only option, use tamper proof security screws to affix the pad bolt and opt for the best quality padlocks available to ensure they cannot easily be cut with bolt cutters.
Check for loose hinges
While the lock might be the first point that a would-be thief attempts to access, they will also then check doors and windows to see if they are open or loose.
Conduct a quick audit of your shed, checking things like door hinges and window locks to ensure they aren't loose or easy to break into.
If they might be prone to a break-in, consider fitting hinges with non-returnable screws and improving your window security.
As a small tip, the security of sliding windows can be improved by running a piece of dowel in the window channel to stop it being forced and slid open.
Ensure your doors are in good condition
While you are auditing your doors and windows, check that they remain in good condition. In other words, consider how strong they are and whether they would be able to withstand forced entry.
It might also be worth opting for a security grille to decrease the likelihood of a thief gaining access.
Don't leave access tools lying around
Sometimes a break-in is an act of opportunity, which means the harder you make it for someone to access your shed, the less likely they are to target it.
With this in mind, don't leave tools lying around outside your shed that could feasibly be used to break-in.
This includes ladders, sharp tools, and gardening implements.
Consider a smart alarm
When it comes to home security there is a wealth of great technology now available, including smart alarms, which send an alert to your mobile phone when a door is opened.
If you're concerned about the security of your shed, consider installing easy-to-fit smart alarms.
Invest in security cameras and lighting
In some cases, the value of the machinery or items you have in your shed might warrant the installation of security cameras.
Again, modern technology means cameras are a lot more affordable to purchase than they once were, are easy to install, and can send the vision straight to your mobile phone.
Meanwhile sensor lighting allows a light to come on when motion is detected in the area around your shed, which can deter a potential thief from even trying to enter.
Looking for shed parts?
If you're looking to improve the security of your shed or undertake a little routine maintenance, Titan Lite has a range of steel parts suited to sheds, garages, carports and toolsheds.
You can view that range here, or contact us directly for the right part to suit your needs.