Five Very Different Uses For Your Carport
Posted by The Kings of Steel | Blog | May 04, 2022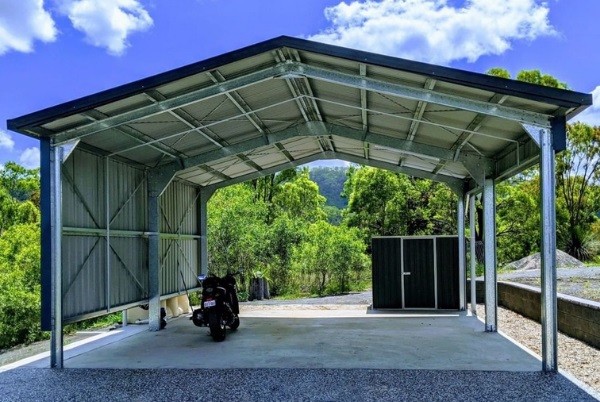 They might be called carports, but who said a nice solid shade structure was only suited to vehicles?
The reality is, there are a variety of ways to put a carport to good use, all while improving the liveability and functionality of your property with one simple, affordable addition.
With that in mind, here are five very different uses for your carport…
Covered children's play area
As any parent will attest, providing a dedicated area where your children can get outside, get dirty and get creative is a massive asset in any home.
It's even better if that area is covered, offering shade from the sun and protecting it from the rain. That's where a carport is a great option.
Whether your children use it as a covered area to scoot, play handball, set up a sandpit, create a cubby house or indulge in some art, a carport provides the perfect covered area for play.
Outdoor entertaining area
If you have an enticing outdoor space that just begs to be transformed into an entertaining area, a carport is a great way to provide shade and protect any outdoor furniture from the elements.
Best of all it's an independent structure, so can be positioned either adjoining the house or away from it.
Set up some fairy lights, hang some indoor plants, have a cement floor or pave the area and it's a whole new outdoor room to enjoy with family and friends.
Outdoor games room
Why should an outdoor play area be restricted to the children? Why not create a games room that's either adjacent to or set away from your home?
It could be a space for table tennis, foosball, or a pool table, offering the perfect space for a little friendly competition or a fun zone to simply escape from it all.
Pool gazebo
A pool area becomes a whole new family zone when you add a shaded structure where people can sit, dine, or simply relax by the pool.
This is a particularly welcome addition for properties where young children reside, allowing parents to be in attendance by the pool, supervising their children as they swim.
Outdoor kitchen
Australians just love the idea of a backyard barbecue, and in recent years this has ramped up a notch to see many homes now boast a complete outdoor kitchen.
A carport is a great way to easily add this space to your home. Decked out with a barbecue, benches, tables and chairs and even perhaps an outdoor sink and fridge, a carport can be positioned wherever you like on your property.
A multipurpose investment
While the above are some very different uses for a carport, the reality is it can be a multipurpose area that accommodates your lifestyle in a number of ways.
It can protect machinery, house cars, accommodate caravans or boats and provide whole new zone that you can use in a variety of imaginative ways.
Looking for shed parts?
If you're looking to build a carport, create an outdoor space or make some additions to your existing shed, Titan Lite has a range of steel parts suited to sheds, garages, carports and toolsheds.
You can view that range here, or contact us directly for the right part to suit your needs.