Five Top Tips For Storing Our Titan Lite Gear 2
Posted by The Kings of Steel | Blog | August 16, 2021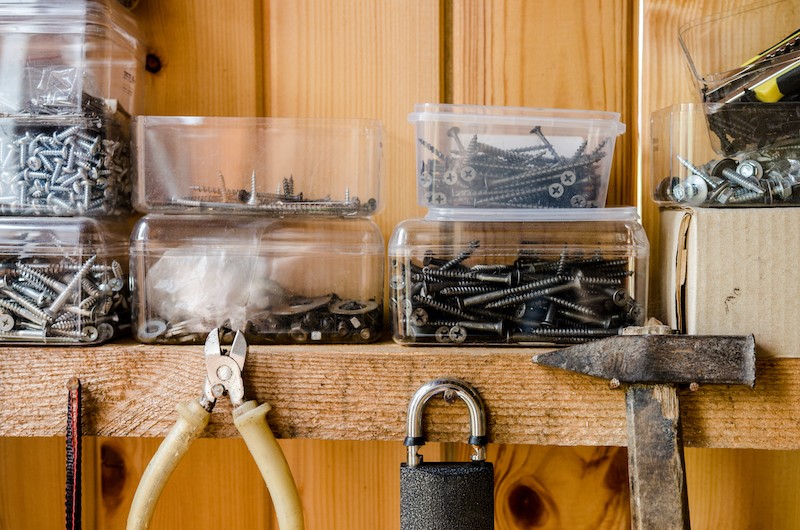 Parts and supplies can quickly turn to chaos if not properly stored.
This can be frustrating, time-consuming and even dangerous if not managed properly, but with a little bit of planning and some cheap and easy hacks, you can keep everything in its right place.
Follow these five handy, helpful ideas to create a more efficient workspace and keep all of your Titan Lite parts safe, secure and easy to find:
Available from most hardware stores, pegboard is an excellent and cheap way to keep your workspace organised. Hooks, boxes and trays can easily be hung from the board, giving you plenty of space and versatility. Pegboard is perfect for organising smaller items such as screws, bolts and washers, as well as hanging fixtures including hinges, plates and connectors.
Fishing tackle boxes. If you need to transport your Titan Lite supplies regularly, fishing tackle boxes are ideal for keeping those smaller items secure and organised. Tackle boxes come in a wide range of styles and sizes, from small containers to full-sized storage boxes featuring drawers and compartments. This makes them ideal for washers, rivets, nuts and bolts, as well as smaller plates, hinges and so on.
Tool drawers. Similar to fishing tackle boxes, commercial tool drawers give you a great, mobile way to organise larger flat items. Angle connectors and strapping can be easily stored in tool drawers along with your roller door motors and parts. Tip: when shopping for a tool drawer or tackle box, take along the largest item you want to store to make sure it fits.
Ratchet hangers & tie-down straps. For longer items, such as beams, flashings, guttering and narrower sheeting, hanging is a great way to keep products organised, safe and stored efficiently. Firstly, make sure that what you are hanging isn't too heavy – either for your trusses or to easily remove when needed. Rope, ratchet hangers and tie-downs can then be used to store products overhead and out of the way until you need them.
Occy straps. When aren't occy straps useful? Occy straps allow you to secure larger panelling and sheeting to internal posts and beams. Stand your sheets vertically and secure occy straps diagonally across the top corners. For more flexible panelling, you can use a length of dowel to hold your sheets in place. Hold the dowel in place horizontally with occy straps securing it at either end.
These simple tips and small investments can save you a lot of time and effort when you need your Titan Lite products close to hand and easy to access.