Five Simple Shed Upgrades
Posted by The Kings of Steel | Blog | April 05, 2022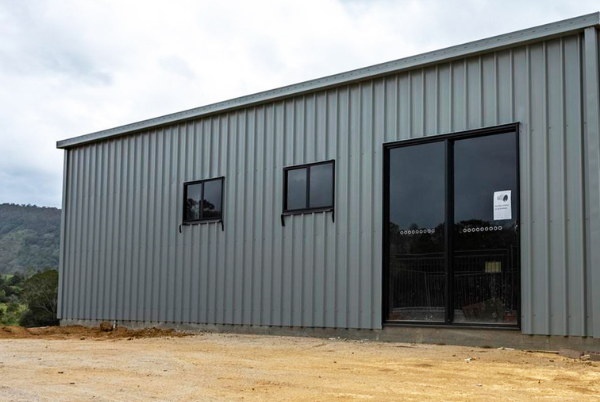 You've got to love the sheer practicality a simple shed provides. As a place to store extra items, valuable machinery and even incorporate an additional work space, it's a gift that keeps on giving.
Which begs the question, how can you take something great and make it even better? Well, here are five simple shed upgrades that take your shed to a whole new level.
Water and electricity
From lighting to powerpoints and productivity, connecting your shed to three-phase power really ramps it up a notch. Now, not only is it a storage space but a workshop, alternative workplace and so much more.
If you haven't connected your shed to power, it's firmly on our list of must haves, but don't forget there's also potential in harnessing the roof space of your shed to capture water.
When you connect your shed to a water tank, a whole host of options open up – whether it's a dedicated water supply for the actual shed and the inclusion of a toilet and sink, or water storage that allows you to better irrigate the garden.
On that note, why not go totally green and add solar panels to your roof, along with a water tank? Now your shed note only captures water, it can also power itself.
Extra cover
A shed can be great as a workshop or for storing items and machinery, but when you add an awning or carport, a shed becomes a highly flexible extension of your home.
Carports and awnings allow your shed to accommodate extra items, such as boats, trailers or extra cars that need coverage from the elements, but don't necessarily need to be locked up.
Electric roller doors
Simple additions like electric roller doors make your shed a whole lot more practical. Now you can enter your shed without exiting your vehicle or getting off your ride-on mower.
Ultimately this saves time but it also allows your shed to become a much more practical option for storage, working and so much more…
Insulation
Let's face it, Australia's climate can be harsh, and there's nothing that improves the climate control of a shed quite like insulation.
Adding insulation isn't just about comfort either. In addition to making time spent in the shed a whole lot more appealing, it also helps protect items and machinery from temperature variations.
Weather proofing
Whether it's window rubbers, door seals or good guttering, weather proofing your shed helps protect it (and the items within it) from the elements.
It also makes your shed a much more comfortable place to spend time. Perhaps more importantly, weather proofing your shed helps it stand the test of time.
Looking for shed parts?
If you're looking to improve your shed or undertake a little routine maintenance, Titan Lite has a range of steel parts suited to sheds, garages, carports and toolsheds.
You can view that range , or for the right part to suit your needs.