9 Essential Tools Every Handyman Needs In Their Toolbox
Posted by The Kings of Steel | Blog | July 20, 2016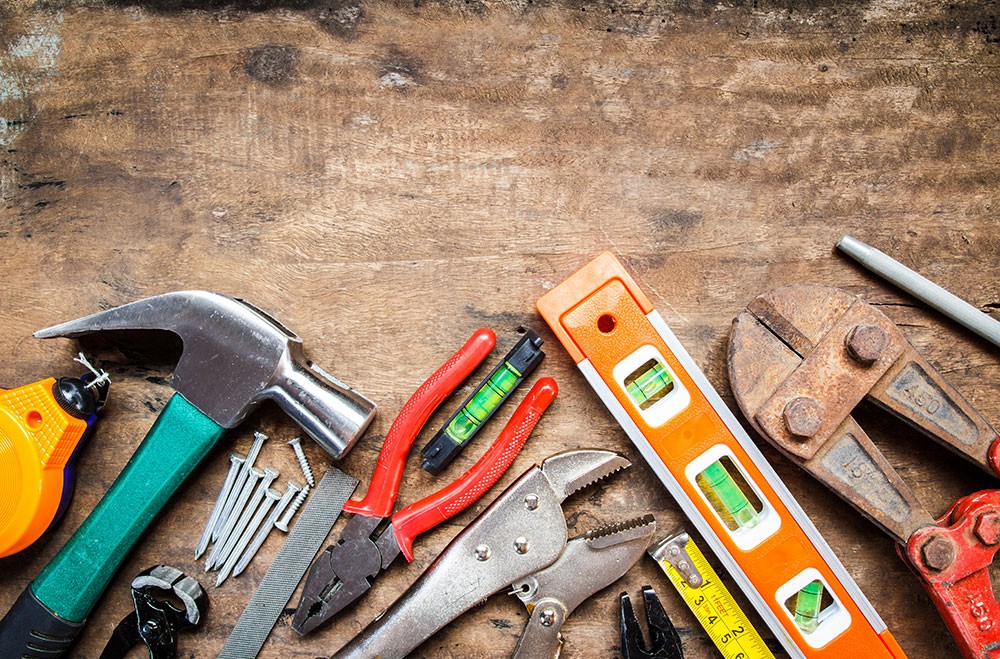 For people without an unlimited budget, it's important to make a smart selection, and stock the right ones.
One thing to note before you start shopping, is be prepared to invest in high quality tools. There's a vast range prices for just about every tool on the shelves, but cheap ones are prone to damage or breakage. Murphy's Law very much applies here; the tools will break right when you really need them!
The best approach to building your toolbox is to take your time, and build it up slowly with proper craftsman tools. Start with the basics (which we've listed below), and build your way up from there as you find your need more tools for specific needs.
Claw hammer
The absolute staple of any tool box is the humble hammer. You won't be getting too much done without one of these! There are a wide range of hammers available, but you should be looking to get one that is light enough to carry around, yet still heavy enough to drive in (or pull out) nails. The default for most people is the 16-ounce hammer. In order to ensure your hammer lasts for the long term, look to get one with a synthetic handle, rather than a wooden one – wooden hammers tend to degrade and break more quickly.
Power drill
Of all the power tools, the drill is probably the most used by most handymen. You should be looking for a couple of things when buying one of these – durability is of course the primary concern, but you also want a battery that charges quickly, and lasts a long time when in use.
Circular saw
If you're going to be cutting wood frequently, then a circular saw is probably a wise investment. These tools are not for beginners, but if you're looking to do more than basic home repair tasks, even an entry level circular saw should be able to cut you clean wood lines for your various construction projects.
Allen keys
So many projects use require Allen keys - if you don't have them, you're not going to get a lot done! You'll be using these for a wide range of uses, but most commonly screw heads, and they're essential for being able to tighten those screws that are in awkward positions.
Workbench
So many people make do with makeshift workbenches - but don't do that! A workbench is in itself a specific tool that will make it much easier for you to work - and much safer, to boot. A good work bench is solid and can handle heavy things being placed on it, and it should also be very spacious to give you room for your tools, as well as whatever you're working on.
Tape measure
It may sound like basic logic, but you would be surprised how many people forget about a tape measure (or accidently lose one), and then can't measure out that cabinet they went and bought all the material for. A good tape measure is robust and retractable, and you should keep it with all your other tools – don't leave it lying around! They're really easy to lose.
Pliers
A good pair of pliers are highly essential; in fact, really, your toolbox should include two different kinds. Needle nose pliers are small and good for fine work; electricians make good use of these to cut, bend, grip or strip wire. Vice grip pliers, are large pliers you can lock in place, meaning they can "hold" things that you're working on while you use your two hands to do other things.
Level
Good home handiwork requires as much precision as that done by the professionals, and a level is essential for ensuring you've got all your cuts and lines straight. There are phone apps that aim to replace the physical level, but nothing beats the real thing.
Utility knife
It can be tempting to ignore the utility knife when you've already got so many tools that can cut and scrape. But a utility knife is so incredibly useful for when working on fine details; once you've got one, you'll soon find yourself relying on it all the time.
There are so many other tools that you can invest in when your expanding toolbox – screwdrivers, saws, wrenches, and so on. And you would make good use of them. However, when you're just getting started, the above tools will be enough to get most basic projects done. Start with the basics, and then work your way up from there!